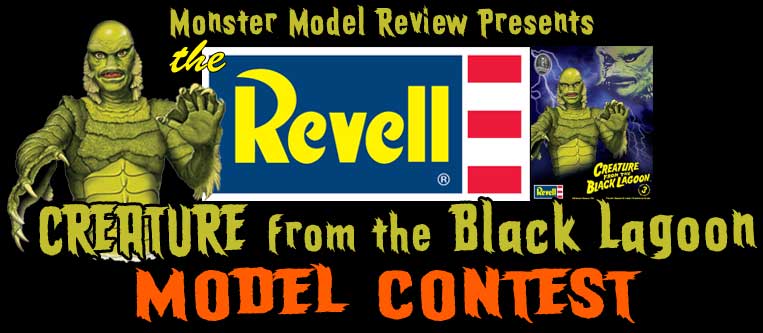 Build, paint and convert Revell's Creature from the Black Lagoon Universal Monster 1/8th scale plastic model kit,
for your chance to win great prizes from
Revell, Amazing Figure Modeler, Aves, Night Owl Models and Monster Model Review.


1st place best Advanced modeler
1st place best Beginner modeler
1st place best Youth (0-13 years of Age)
1st place best Diorama/Conversion


Rules are as follows:
1. Have fun!
2. We'd like to see new works, nothing that's been displayed on a web site or magazine in the past. It's all part of the fun.
3. E-mail three quality pictures of the kit and you can send them to Monster Model Review, Pictures should include one overall shot showing the entire kit, base and all, one showing entire back side and one close up of the face.
4. Shipping out of USA will be paid by winner.
5. The contest will start March 6th and end June 30th, 2010
6. The winners will be announced on the July 10th, 2010 episode of Monster Model Review.


Judged by:
Joyce Collier: REVELL Inc.
Dave Fisher: Publisher Amazing Figure Modeler
Terry J. Webb: Publisher Amazing Figure Modeler
Rick Evans: Night Owl Models
Parts Pit Mike: The Parts Pit
Painter/Builder: Mike Wallace
Chris Gierke: Monster Model Review



Judges criteria for each categories.
Overall appeal, color selection, paint execution, seam work, etc.
Each entry will be rated in each category,
Scores will be tallied for each category and the highest points will be judged the winner.
If be chance there is a tie, the judges will discuss it to determine which one is the winner.
Most importantly be safe, have fun and Model On!


The Universal Studios Monsters are trademarks and copyrights of Universal Studios. Licensed by Universal Studios Licensing LLLP. All Rights Reserve.